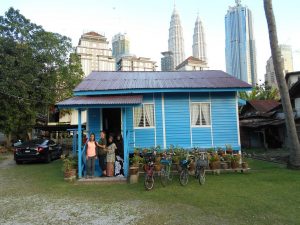 Explore Kuala Lumpur for an overall summary of how KL works and its sight and sound during the day. The tour starts early in the morning where you get to see people going to work and their daily routines in the city. Life in the city could be different from your average city, with wet markets, Chinese temples, Hindu temples saying their prayers before the start of their business.
We learn about the city's history, seeing things from the eyes of a local guide, cycle to see villages in the city and stilt houses and its surroundings. If you are lucky, some curious locals would chat with you over coffee!
In the evening, if you are a food enthusiast, why not take our bike food out? This tour delivers you 3 delicious meals and one desert. Let our guide enthrall you to the city's contrast and diversity, telling you stories from the past how different communities travel afar bringing their spices to Malaysia, then Malaya. Chinese from mainland China traveled to Nanyang (Southeast Asia) bringing their porcelain bowls and spices and Southern Indians came working in rubber estates, bringing their textiles and spices.
Hidden Secrets of KL
Time: 7.30am-11.30am
Bike Food Tour
Time: 6pm-9pm
Meet up point: Q Cafe, Menara DBKL 1, Jalan Raja Laut, KL
Price: RM450 per pax.